Ports are a hide and seek nightmare for safety officers, with huge dangerous spaces where large cranes operate, it is essential that they are fenced off. These areas are so large that presence sensing is not viable, making a safety key system the best way to keep people safe when accessing the areas under these cranes.
Our forced extracted safety key means that if someone wants to enter the dangerous space they have to remove a key from our interlock to open the gate. Then the interlock will not lock and the crane cannot start until that key has been replaced. With such large areas at play, networked control pods reduce wiring requirements and allow for quick access through control at the gate.
⭕ Click on the different sections of the below to learn more about the Fortress solution and the safety standards! ⭕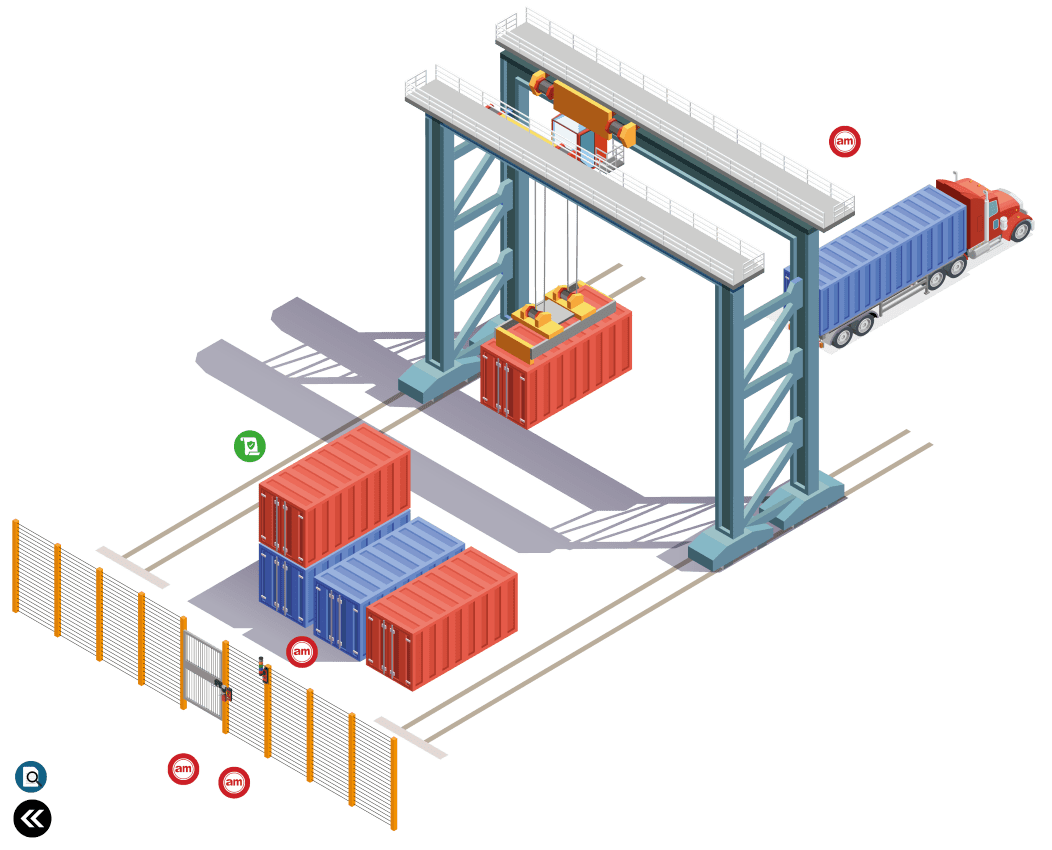 Standards Article - Unexpected Start-Up
Want to know more about the Safety Standards related to this case study? Read our Standards Article on Unexpected Start-Up to find out more.
Gantry Access Applications
To see more on our solutions showing safe mounting and dismounting for Gantry Access, follow the link below to our Straddle Carries - Gantry Access application.
amGardpro Heavy Duty Guard Unit
The gate can only be opened once the 'Request to Enter' button has been pressed on the Networked Control Unit. When access has been granted the actuator can be removed from the head of the interlock, allowing access to the gate.
The forced extracted safety key ensures personnel take the key with them inside the safeguarded space, preventing unexpected restart.
Networked Control Unit 
The Networked Control Unit enables control options to be located next to the point of access and allows direct communication to the PLC. 'Request to Enter' permits access to the cell via the heavy duty interlock.
Buttons / Lamps are customisable to allow for range of control options suited for your application. To find out more follow the link below.
-[Networked Interlocks with CIP Safety or PROFIsafe]-
Light Stack 
The light stack indicates the machine state and gives a visual signal to operators. The external I/O module can connect to networked pod, whether integrated or cabled externally to the I/O module, the flexibility of Fortress solutions makes connecting devices simple.
Speak to our team to discuss our solutions or follow the link below to learn more!
Key
Hover over the icons to find out what type of information they contain!
Heavy Duty Interlocks 
amGardpro Range
Trapped Key Interlocks 
mGard Range
 Medium Duty Interlocks 
tGard Range
Safety Standards Articles 
Click here to view related standards articles written by our safety experts!
Video Link 
Click here to see related animations / videos!
View PDF Version 
Click here to see PDF
Back Button 
Return to main scene