Fortress launches EtherCAT on the amGardpro networked range
Over the years the role of industrial network communication in factory automation has expanded considerably. With a growing market share, EtherCAT is a widely used network protocol, third-party certified as meeting the requirements of IEC 61784-3, that enables fast and reliable communication between industrial devices.
Fortress is always working towards improving the product offering and can now provide amGardpro proNet units able to communicate with EtherCAT-based systems for industrial safety and control. Our network-enabled interlocks and control pods are now equipped with Safety over EtherCAT protocol (FSoE).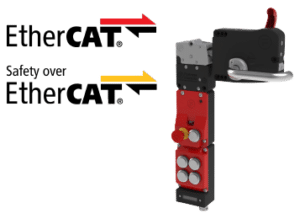 What is EtherCAT?
Ethernet networks would generally send data packets over different devices, which then decode the data and pass their responses to the master. The process is carried out for every network device until they are all adequately updated, but this in some instances can result in delays and extended network cycle time.
Conversely, EtherCAT utilises simplified master and slave devices allowing real-time data exchange with "processing on the fly". The data sent from the master to the slave devices are extracted instantly and in a pre-determined time interval, so that the frames pass through the slaves with minimal delay before returning to the master.
Network connectivity with amGardpro proNet
amGardpro is Fortress' flagship range of heavy-duty interlocks and control pods. With a robust design (actuators have a retention force of 10,000N) amGardpro products are built to last and are suitable for applications up to PLe/Cat. 4 or SIL 3. amGardpro is highly configurable, so that each unit can be tailored to specific application requirements.
In addition to the integration of pushbutton controls and trapped keys, amGardpro solutions can be equipped with proNet – a network communication module that allows amGardpro to communicate with the main industrial network protocols: EtherNet/IP, PROFINET and EtherCAT.
A proNet option pod module can also be configured as a standalone control station and connected to external devices (i.e., visual signals). Standard and safety I/O are communicated through the chosen protocol via a cable connected to the Fortress proNet unit.
Key benefits of EtherCAT and amGardpro proNet
There are many reasons for choosing to use an amGardpro proNet device with EtherCAT. Among its key benefits, the network protocol is known for being:
✅ fast – due to how frames are processed EtherCAT is the fastest Industrial Ethernet technology, ensuring high performance
✅ flexible – it is possible to have line, tree, and star topologies, or combinations thereof, with an almost unlimited number of nodes
✅ reliable – with FSoE, functional safety is integrated in the network architecture. Safety-related data can be transmitted in parallel with standard data on the same network.
When safety, strength and reliability are of paramount importance, amGardpro is the optimal solution. In addition, products are:
✅ robust – suitable for applications in challenging environments
✅ highly configurable – from pushbuttons, to trapped keys and network connectivity, a multitude of options can be built in a single unit
✅ easy to connect – with multiple connector configurations available depending on customer specifications
Thanks to the proNet option pod it is also possible to have 3 sets of Dual Channel Safety Inputs alongside standard I/O for pushbuttons and lamp indication. Device information, supply voltage, and network statistics are available via a webpage interface. In addition, units can be daisy chained with no additional hardware.
Our network-enabled devices are easy to set up and configure. Products can be pre-fitted on mounting plates that reduce the number of fasteners required. A broad range of quick disconnects available also contributes to reducing the amount of cabling and installation time, leading to lower overall costs.
Main industrial applications
With a high degree of configurability, networked products from the amGardpro range are available in countless variants making them suitable for applications in several industrial sectors. Products are third-party certified and can be used in applications up to PLe/Cat. 4 or SIL 3.
The integration of Fortress interlocks and control pods with EtherCAT not only is versatile and applicable in various industries but is also particularly suitable for applications where high-speed communication is needed, from robotics to automotive and warehouse automation.
Contact Us
If you have any questions or want to find out more about Fortress network-enabled solutions get in touch.